Clifford Pub
Occasional Mushy Loon (1996)
The first clifford compilation was a cassette of originals by various list members. It was compiled by Claude Malan and mastered by Scorbie. The title is an anagram but, since anagrams seem to be popular with Cliffords, I'm not about to give it away. Go on, you can figure it out. It may have something to do with drinking being another popular activity with Cliffords.
A remastered CD-R release is planned, David Ashton has done the remastering, and I am simply delaying on the artwork.
In the meantime, listen to a low-bandwidth MP3Pro stream of Occasional Mushy Loon courtesy of Sevcom.
Track Listing
Aussie/Euro Side
1.
Severed Heads
Animal (Big Day Out version)
2.
DJ Two Minute Noodle
Sex: Get It?
3.
Head Unit
She Goes Down
4.
Carya Amara
Metal Man
5.
!!*
aHA words not rihl
6.
Moulin Noir
Car Crash
7.
Decoder
Lucy Said Hello
8.
Time Urgency
300km, Full of Desire
Yankee Side
9.
Omnium Gatherum
Nothing New/Mutoscope
10.
Lx Rudis
Fly Little Hawk
1.
Scorbie
Mr Medium
2.
M 5tevens
Venus in Dacron
3.
Snaggletooth
How Long...?
4.
Boobulplex
Headgames
5.
Synchopath
Uruk
6.
XLtierack
Sanitation Engineers
7.
Acolytes Akimbo
Purge Rider (chaotic disaster demo)
8.
Stephan Quednau
Kato Superfunk
Cover Art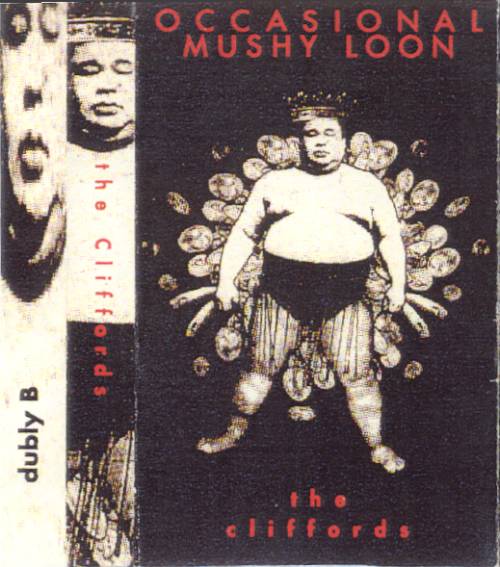 Credits and Cover Notes
From the original cassette liner (although the email addresses listed have been removed, partly due to spam reasons, partly due to the fact that most of them are no longer current):

  AUSSIE/EURO SIDE
  1. Tom Ellard
  2. Stewart Lawler
  3. Claude Malan
  4. Kevin Busby
  5. Bernie Maier
  6. Anders Wikholm
  7. Justin Wolthers
  8. Blair Rideout
  YANKEE SIDE
  9. David Banton
  10. Lx Rudis
  1. Scorbie
  2. M 5tevens
  3. Evert Pater
  4. Gerry Valle
  5. Daryn Lehoux
  6. J Foster Peone
  7. Timothy Towns
  8. Stephan Quednau

  Compiled by Scorbie and Claude Malan, Sept-Nov '96.
  Cover design by Scorbie with art stolen from
  Uncle Tom's "Rotund" t-shirt.  Layout by Scorbie.
  And remember... it's 11am and he's got a headache.

  Thanks to: Robert Chapin for technical support,
  Lx Rudis for deciding on the title,
  M 5tevens for making my Mac work,
  Claude for the Tim Tams and didgeridoo,
  everyone who took part, and
  The Almighty Clifford: Uncle Tom Ellard.

  In fond memory of Robert Racic...
  
|
Bernie Maier
|
$Date: 2008/03/18 $
|
$Revision: #10 $
|